Ethos and Values: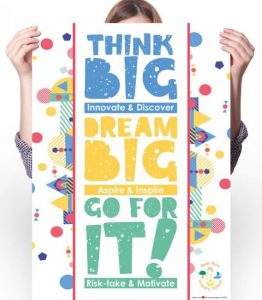 Bede Burn Primary School is a very happy, caring, supportive place to learn and grow. We promote tolerance of others and the mutual respect for beliefs and ideas.
We inspire our pupils to achieve, and have high expectations for all of our children; we aim to instil the belief that we are all capable of anything, with hard work and perseverance. We embrace challenges, safe in the knowledge that mistakes are simply opportunities to improve further. This in encompassed in our school motto: 'We think big – we dream big – and we go for it!'
We encourage a strong sense of collaboration. We know the importance of contributing to our community as well as appreciating the support from others, including our Governors, parents, grandparents and Bede Burn Buddies group.
We strongly believe that by promoting the children's self-confidence, be it in academic, sporting or artistic activities, our pupils will reach their full potential. We are proud of our achievements – our children shine brightly.
We aim for everyone to Think BIG…Dream BIG… Go for it! This encompasses our belief that knowledge is the greatest power, and that learning can lead people to change the world for the better – something that we instil in our pupils. Secondly it reflects that everybody in Bede Burn is a learner…and often we learn from each other.
We aim to make sure that our pupils run smiling to their parents at home-time, keen to share what they've been doing today. We want to spark the imagination of our pupils. We want to provide an education that prepares our children to be upstanding members of our community, both local and global.
Our aim is for our children to leave Year 6 with everything they need for success in their bright futures, including a broad academic knowledge, respect for themselves and others, confidence and a host of fond memories as well as being ready for the next step in their education and ready for life in Modern Day Britain.
School Rules
We have three school rules – 'Ready, Respectful, Safe'. They are easy for the children to remember and we use them to teach our children about appropriate behaviour.